CASCINA TAVIJN
Cascina Tavijn is a tiny family farm with about 5 hectares of vines. About the same amount of surface is dedicated for growing hazelnuts. All the vines are planted on slopes with various expositions. The soil is mostly soft sand, which gives her wines perfume and elegance. Nadia's parents farm the land with love. Their farm has never seen agricultural chemicals. While Nadia's parents farm the land, she works in the cellar. Nadia and her husband Pietro have two young daughters. Nadia's family life at her Cascina Tavijn is reflected on the labels of various wines.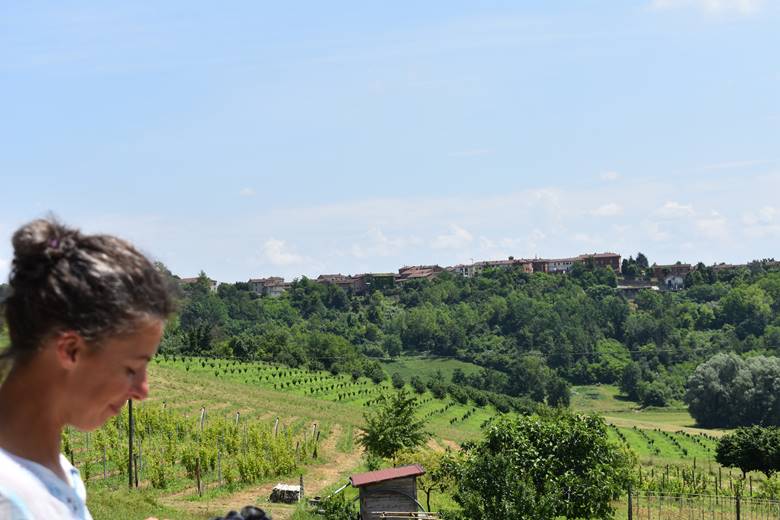 BANDITA
100% Barbera. The signature grape in Asti and, perhaps, the most food versatile varietal of the region. This wine, unlike the majority of Barberas in the region, spends as much time in élevage as Nadia believes the wine deserves.
OTTAVIO
100% Grignolino. Grignolino is an indigenous varietal that used to be widely planted but now disappearing. But the local wine lovers, who pay zero attention to international wine fashion, keep growing this lovely varietal. Elegant. Classy. It is a varietal that gives light, perfumed body with good acidity. Aged in neutral vats for about a year. The label adorns a sketch of Nadia's dad Ottavio, who farms the very Grignolino vines.

TERESA
100% Ruché. Ruché is an indigenous varietal that is hard to find nowadays in the Piemonte region. Ruché is darker than Grignolino and has attractive floral nose with hints of spices. Like all of Nadia's wines, this bottling is fermented with ambient yeasts. Aged in neutral vats for about a year prior to bottling. That is a sketch of Nadia's mom Teresa on the label, who farms the very Ruché vines.
ROSETTA
This is a rosé made from 100% Freisa. This rosé is slightly frizzante, making this wine lively and delicious. Freisa is also an indigenous varietal in the Piemonte region.
BIANCA
A compelling and unusual blend of Cortese, Moscato, Chardonnay, and Vermentino. The blend may change from one vintage to the next. Unfiltered. Cloudy. Aromatic. Joyous. Most of the varietals see a brief skin contact for about four days. The blended wine is aged in neutral vats and bottled in the following spring.
RUCHENA
Old vine Ruché from a tiny parcel in the village of Frassinello, which is near where Nadia's family farm is located. This wine is raised in neutral vat for about a year prior to bottling. Production is tiny.
VINO ROSSO
This Vino Rosso started as a trattoria wine that Nadia made for her husband Pietro's Ristorante Consorzio in Turin. It is a thirst-quenching wine that is anything but simple. It is about a blend of Freisa, Ruche and/or Barbera. The blend changes with every vintage.
MostRo
It is a Pet Nat made from Grignolino grapes, which come from the lovely cared one-hectare vineyard Mezzena. Partially fermented wine is bottled and capped, where fermentation continues in bottles, creating bubbles.