NOËLLA MORANTIN
Noëlla had been making artisanal wines for another domain in the Loire for a number of years. She realized her dream of starting her own domain in 2008. In that first year, she purchased grapes from the local growers she knew. Then, the universe was conspiring in her favour. Starting 2009, she got the opportunity to farm a portion of Clos Roche Blanche's vineyard. The proprietors Catherine Roussell and Didier Barrouillet of Clos Roche Blanche were looking to downsize as they were approaching retirement and have now retired since the 2014 vintage. Noëlla's approach to wine can be described as 'nothing added and nothing taken out', which includes hand harvested grapes, indigenous yeasts, and no filtration. Her wines have beauty and elegance that are uniquely hers.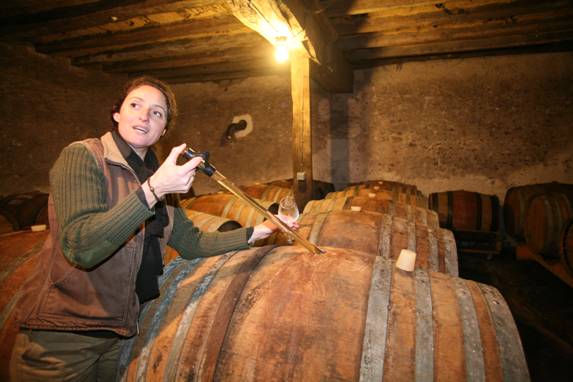 LA BOUDINERIE
Hand-picked grapes with stems go into the traditional tronconic wooden vat, where Noëlla jumps in and pigeage is by feet for gentlest extraction. Made from the Gamay vines grown on limestone in the Clos Roche Blanche vineyard. Best served cool.
MON CHER
From the older parcel of Gamay. A more elegant version of La Boudinerie.
MARIE ROSE
Made with the Cabernet Sauvignon grown on clay over limestone. Thos rosé is made intentionally made slightly off-dry, which glides down even easier. Off-dry makes this rosé accompany just about any dishes - terrine, sausages, steak, pork-chops and, of course, cheeses. Off-dry rosé used to be common in the Loire.
CÔT A CÔT
From the 70 year old vines. Côt, also known as Malbec, grown on Loire limestone has a completely different expression than the new world. Vinitification is traditional in wooden vats for about a year. Côt has been cultivated for centuries in the Loire for a reason. It is self-evident in this wine.
TERRE BLANCHE
Made from the Chardonnay grown on clay over limestone. This wine is made as still or sparkling, depends on a vintage. The sparkling sees no dosage and is made in the ancestral method, where the wine is capped before the fermentation is complete. The fermentation continues in bottles, where bubbles are trapped. The lees are taken out and topped-up with the same wine.